About MPS Program
Our Mission
The Math Performance Success (MPS) program aims to help all
underrepresented students meet their goals
by improving student success in math through innovative and collaborative approaches including extended lecture time, in-class tutoring, and embedded counseling services.
Connect with us on Social Media at deanzacollegemps
With the Math Performance Success (MPS) program, you'll find a team of instructors, counselors and tutors who work closely with students to provide a supportive environment and help them succeed in Math.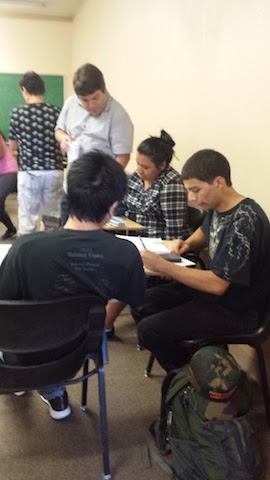 If you have had a tough time with math in the past, MPS can help!
Benefits:
MPS students receive:
Extra class time
Tutoring services (Inside and outside of the classroom)
Academic, career, and personal counseling services (Inside and outside of the classroom)
Calculator loan
Program activities (i.e., workshops and field trips)
Mindfulness training inside the classroom
Courses Offered
Math 10: Statistics and Probability
Math 31 and Math 32: PreCalculus
Math 1A: Calculus
Math 1B: Calculus
---
Interested in joing us in Winter 2022? Please submit an MPS Application
Please
complete the
MPS Application
for Winter 2022 and register for the course with available seats using the CRN below. Should you have any questions, please contact us via email at
mps@fhda.edu
.
Course Offerings in Winter 2022
| | | | | | | | |
| --- | --- | --- | --- | --- | --- | --- | --- |
| CRN | Course | Title | Time | Days | Room | Instructor | Counselor |
| 35746 | MATH 10 | INTRODUCTORY STATISTICS | 08:30 AM-10:20 AM | MTWThF | ONLINE | Stachnick, Gregory | Khoa |
| 34657 | MATH 10 | INTRODUCTORY STATISTICS | 01:30 PM-03:45 PM | MTWTh | ONLINE | Geraghty, Maurice | Sheldon |
| 36857 | MATH 31 | PRECALCULUS I | 08:30 AM-10:20 AM | MTWTh | G-7 | Judson, Zachary | Khoa |
| 36858 | MATH 31 | PRECALCULUS I | 01:30 PM-03:45 PM | MTWTh | ONLINE | Gutierrez, Jennifer | Melissa |
| 36869 | MATH 32 | PRECALCULUS II (This course is full) | 01:30 PM-03:45 PM | MTWTh | ONLINE | Lazar, Andrew | Melissa |
| 37464 | MATH 1A | CALCULUS (This course is full) | 01:30 PM-03:45 PM | MW | ONLINE | Rashid, Nahrin | Khoa |
| 37486 | MATH 1B | CALCULUS (This course is full) | 08:30 AM-10:20 AM | MTWTh | ONLINE | Jimenez, John | Melissa |
---