Meet Our 2021 Student Grad Speakers
These President's Award recipients will both be speaking during the Online Graduation Celebration on Friday, June 25.
Shanaz Shakur is transferring to the University of California, Berkeley, where she plans to study law and sociology.
Keanna Ruiz is transferring to San José State University to complete her bachelor's degree in nursing.
Grad Poet and Award Winners
Read about our student Graduation Poet,
Sara Robertson
, and watch for announcements about major
award winners
– coming soon!

Shanaz Shakur: President's Award Recipient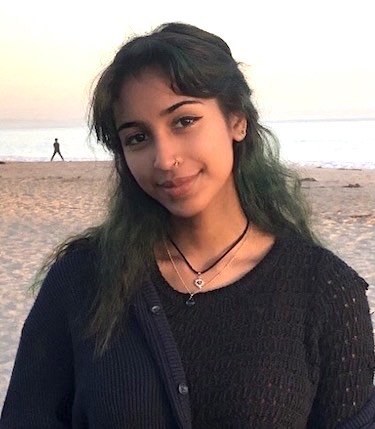 Shanaz Shakur fell in love with the law as a teenager. But as this De Anza graduate heads off to Berkeley this fall, she's determined to make the legal system work better.
Shanaz, 19, is one of two President's Award recipients and will be a central speaker during this year's Online Grad Celebration. She's graduating with an associate degree for transfer in Political Science and received a prestigious Regents' and Chancellor's Scholarship from the University of California, Berkeley.
In her time at De Anza, Shanaz was active with the Honors program, EOPS Scholars and the Global Issues Conference. At Berkeley, she plans to study law and sociology, with the goal of becoming an attorney or an advocate for reforming courts and prisons.
Shanaz is a first-generation college student, whose parents emigrated from Indonesia. Though she describes herself as naturally shy, she said her experiences at De Anza gave her confidence and broadened her interests.
She first became interested in law as president of the mock trial team at Prospect High School. While serving in the role of defense attorney, she developed a passion for advocating in court.
But she's also seen other sides of the real-world justice system. While she was in high school, the arrest and prosecution of a close relative was devastating for Shanaz's family – and showed her what it's like to feel powerless against the system. While at De Anza, she worked part-time for a criminal defense lawyer, reading case files and taking notes on court transcripts.
Shanaz became even more interested in social activism and reform after taking a Sociology class taught by instructor Steve Nava and helping to organize a workshop for the annual Global Issues Conference, a student-led event sponsored by Latinx Empowerment at De Anza (LEAD) and the Vasconcellos Institute for Democracy (VIDA).
Now her goal is to help improve the legal system by working to eliminate inequities that put low-income defendants at a disadvantage, while favoring those with more resources.
Shanaz said she enrolled at De Anza after seeing her older sister thrive here. Sabrina Shakur graduated last year and is now studying psychobiology at the University of California, Davis. They couldn't afford to attend universities right after high school – and Shanaz said De Anza proved to be the right choice for her.
"I learned how to study and manage my time," said Shanaz, who also worked as a barista and retail clerk through much of her time in college. "The fact that I was able to navigate the system, as a low-income, first-generation minority student, really gave me so much confidence ... I can proudly carry that with me."
---

Keanna Ruiz: President's Award Recipient
For Keanna Ruiz, it's been a long journey to get to this point. She first enrolled at De Anza in 2014. Now, she's graduating with her associate degree in Nursing and will transfer to San José State University in the fall.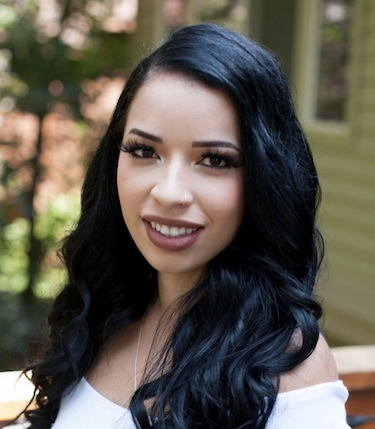 Keanna, 24, is one of two President's Award recipients who will speak during the Online Grad Celebration video that premieres at 7 p.m. on Friday, June 25. After earning a bachelor's degree in nursing, she wants to work with underserved communities.
The eldest of five siblings, Keanna said she's inspired by her mother, who struggled financially as a single parent but earned her own nursing degree while Keanna was growing up.
"My mother always taught me the value of education," Keanna said. "I watched her go through nursing training. It took her several years, but seeing her pursue her goals has motivated me."
After graduating from Oak Grove High School, Keanna enrolled at De Anza in 2014 with the goal of becoming a nurse like her mom. She finished her lower-division requirements while working part-time as a medical assistant. But then a crisis intervened: Keanna had to leave school and work full-time to help her family after immigration authorities deported her stepfather to Mexico.
Things got back on track in 2019: Keanna was accepted into De Anza's prestigious Nursing program and her stepfather was allowed to return legally to the United States. "I was so excited," she said.
Then the coronavirus pandemic disrupted the world. Under new safety requirements, Keanna and other nursing students were initially unable to participate in clinical training, which put their studies on hold. They were able to return to hospitals last fall.
The pandemic hit De Anza's Nursing program hard: Sandra Diaz, a beloved veteran instructor, died of COVID-19 complications in January. She had been a mentor for many students, including Keanna.
As a student in training, Keanna said she wasn't allowed to work directly with COVID-19 patients, "which was difficult at first, because there were so many." But the pandemic reinforced her determination to become a nurse.
There are always risks in health care, she explained, "but this is what we're trained to do. We're trained to help people regardless of what they are experiencing. So this only encouraged me to continue on this path."
---