The ¡LEAD! Community

Welcome to LEAD!
Latinx Empowerment At De Anza (LEAD) is a learning community created by students and for students. It was founded in 2005 by a group of twelve students who wanted to create a student leadership development program that focused on the Latinx community and culture as well as developing their leadership in the community.
Since then, LEAD has expanded and serves as a model for learning on the De Anza campus. Below you'll find more information about LEAD and
LEAD offers a unique style of learning to promote civic engagement and student success. In our classes, students work in small groups called familias throughout the quarter.
Each familia has a mentor, who serves as the liaison between the teacher and student, and who ensures that each familia member has all the support they need to succeed. In their familias, students collaborate on projects, work together to support each other in their learning, and create a strong sense of community.
If you're interested in joining LEAD, please contact Steve Nava, Program Faculty Coordinator.
2022 Despedida and Graduation Ceremony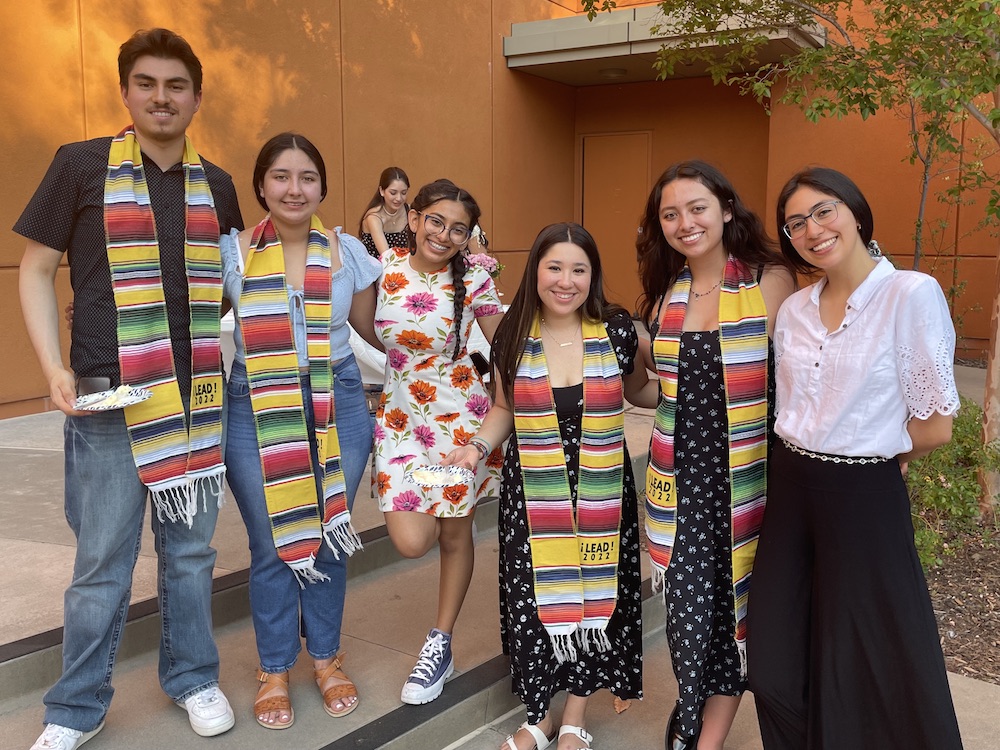 ¡LEAD! students
and their supporters gathered for a special
year-end celebration
outside the VPAC on June 9.
See
more photos
on the
LEAD Events webpage
.
Thanks to Our Supporters!
The LEAD program has benefited from generous support by
We also welcome your support. You can make a donation through the Foothill-De Anza Foundation's "Give Now" webpage. Be sure to designate your gift by typing LEAD in the box marked "Other."
---

Academic Subjects
When we first began, LEAD offered only a handful of courses – mostly in Language Arts. We've expanded since then and, depending on the term, we may offer classes in
Chicano Studies
Economics
English Composition
English Literature
Environmental Studies
Intercultural Studies
Linguistics
Political Science
Sociology
Women's Studies
All of our classes are based strongly on the teachings of Paulo Freire; students teach each other and participate in 12 hours of civic engagement and service to the community.
---

Community and Civic Engagement
We are very proud to work with the Vasconcellos Institute for Democracy in Action (VIDA) on a variety of programs through the year. Some of our civic engagement projects have included
Working with children at the Buena Vista Migrant Camp
Creating oral history projects with the Mountain View Day Worker Center
Restarting and tending the Kirsch Center Garden
Organizing the annual LEAD Global Issues Conference
Creating workshops for the California History Center Mass Incarceration Project
Hosting a "Take Back the Night" event
Providing a jump-start for the Jean Miller Resource Room for Women, Genders and Sexuality