Congratulations to the Class of 2020!
De Anza's 53rd Annual Commencement
Friday, June 26, 2020
---
Watch the 2020 Celebration Video Here
You can watch the special 2020 Celebration Video on this webpage, or use your smart TV or any device with the YouTube app – just search for the De Anza College channel. You can also
---
Here's what you will see:
First, the preliminaries
Welcome from Christina G. Espinosa-Pieb, Interim President
Celebratory remarks from student and college leaders
Commencement address by student speaker Tamara Williams
Conferring of degrees
After the speakers, remember to keep watching for the main event – our special celebration video!
---
Slideshow of Graduates' Photos and Messages!
---
Look for Your Friends!
Click the arrow in the lower left corner of the slides to watch the complete slideshow with all grad-submitted photos and messages, or use the search box to search by name or department!
another option: click here to Watch the Slideshow – with music – on YouTube!
---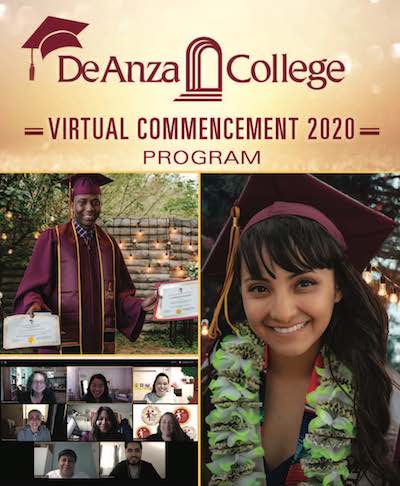 Download the Program
You can download a printable PDF version of the souvenir program for this year's event.
You can also view the flipbook version online.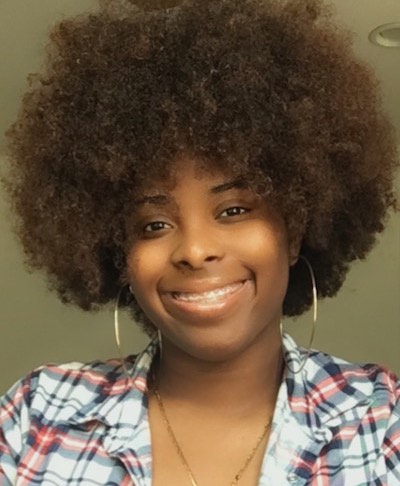 Tamara Williams, Student Speaker
Meet the 2020 Student Grad Speaker
Each year, a student scholarship winner is chosen to deliver the commencement address. This year, at the invitation of the President's Office, the Black Faculty, Staff and Administrators Network (BFSA) selected Tamara Williams to be the student speaker.
Tamara, 26, is graduating this year with degrees in Early Childhood Education and Liberal Arts. She plans to continue taking online classes at California Baptist University, focusing on child psychology and African American Studies.
Congrats Cards, Award Winners and More!
---
Congrats Cards
Remember to check out the online Congrats Cards from family, friends and members of the De Anza College Community
---
Student Speaker and Awards
---
Congratulatory Messages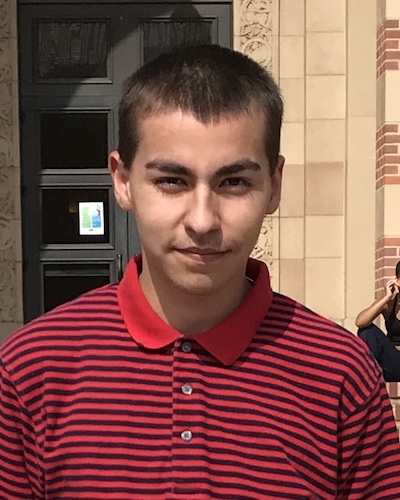 Eric Esparza, President's Award Recipient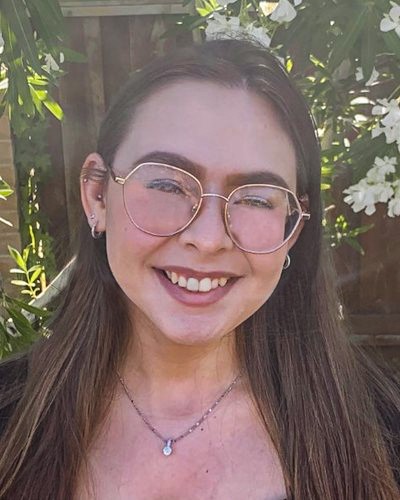 Shelly Michael, President's Award Recipient
---
Two students were named as recipients of the President's Award by Interim President Christina G. Espinosa-Pieb
Eric Esparza is transferring to the University of California, Berkeley and wants to become a lawyer.
Shelly Michael is transferring to Columbia University and plans a career in public service.
---
Four students were selected for awards by the Black Faculty, Staff and Administrator's Network
W.E.B. Du Bois Awards for Academic Excellence

Alaric Hill is graduating with a Liberal Arts degree and a football scholarship from Waldorf University
De'Von Johnson is graduating with degrees in Business Administration and Liberal Arts

Sankofa Awards
---
Genevieve Kolar, who served as student representative to the Foothill-De Anza board of trustees for 2019-2020, was awarded the A. Robert DeHart Scholarship, named for De Anza's founding president.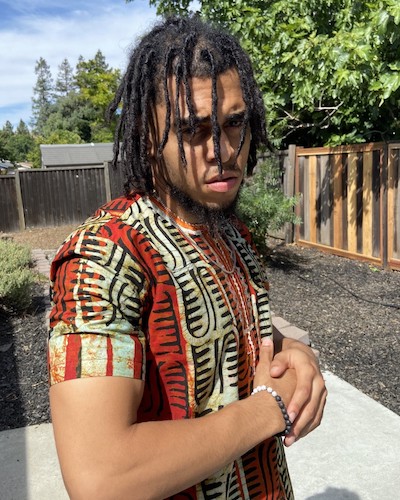 Alaric Hill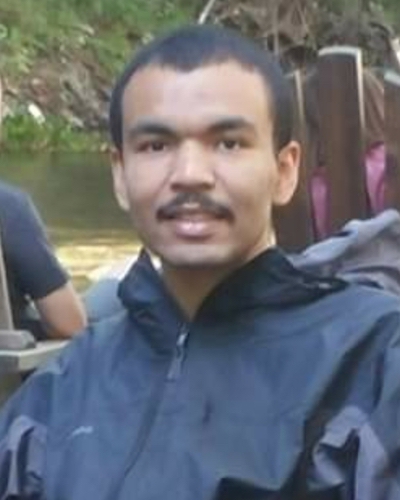 De'Von Johnson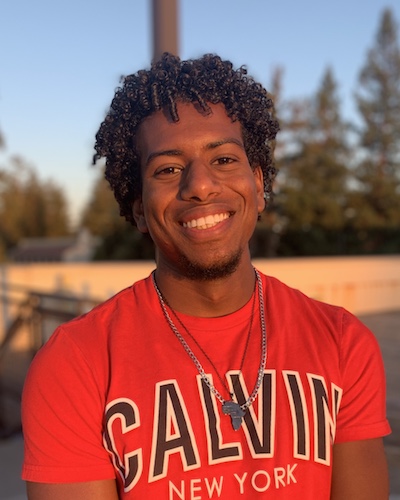 Abdelkareem Khogali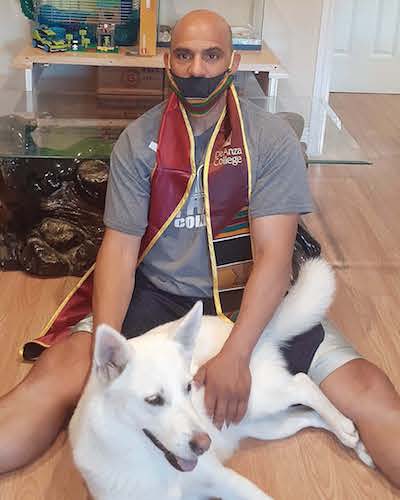 Billy McNeal
---

Messages From Community Leaders
Here are some special messages to the Class of 2020 from members of the De Anza College community. (Click the box in the lower-right corner of each video to watch in full screen.)
Judy Miner, Chancellor, Foothill-De Anza Community College District
Pearl Cheng, President, Foothill-De Anza District Board of Trustees
Peter Landsberger, Vice-President, Foothill-De Anza District Board of Trustees
Patrick Ahrens, Trustee, Foothill-De Anza Community College District
Ro Khanna,
U.S. Representative, D-Santa Clara
Evan Low,
Assemblymember, D-Cupertino
Shyamoli Banerjee, President, Foothill-De Anza Foundation Board of Directors
Orrin Mahoney, Co-Chair, De Anza Commission
Savita Vaidhyanathan,
Co-Chair, De Anza Commission
You'll find an assortment of these on Giphy.com and your favorite social media app by searching for deanzagrad2020 or the hashtag #deanzagrad2020
---

Friends and Family Can Send Congrats Cards!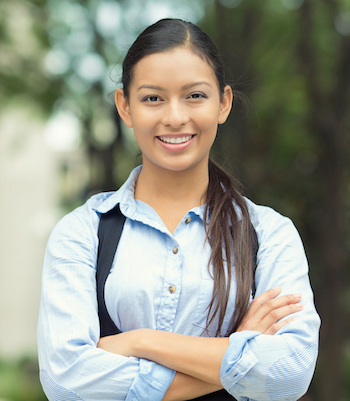 We've got a great way that friends and family members can send congrats and best wishes to their favorite grad – or to the entire Class of 2020.
Classmates, instructors or anyone in the De Anza community can also use our online form to submit a message, and optional photo.
We'll post these on a special section of this website, where everyone can enjoy them.

Grad-Themed Zoom Backgrounds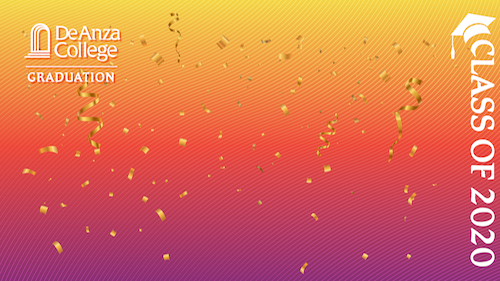 Visit the Office of Communications Zoom Backgrounds webpage to view and download specially designed background images that you can use for online grad celebrations – or anytime you want!
---
Share Your Grad Cap Decorations!
Decorate your graduation cap and share a photo on Instagram or Twitter. This is your chance to show off some of the creativity, humor or inspiration that helped you get through college and earn your degree. Be sure to use the hashtag #deanzagrad2020 so we can regram and retweet our favorites.
Here are some of our favorite caps from recent years.