The Cheeseman ESA Story

In 1971, what was to become a native species showcase was nothing but a dream to a group of De Anza's Biology faculty and students. But with an initial grant of $12,000 and much energy, persistence and love, this dusty, barren, bulldozed corner of the college campus began its transformation.
Hills and a stream appeared. A waterfall. Young trees, shrubs, and cacti began their long lives. Wildflowers once again bloomed. Wildlife followed. Birds and dragonflies, fish and lizards and turtles. In short, with the help of dedicated students and faculty, this little area recreated itself.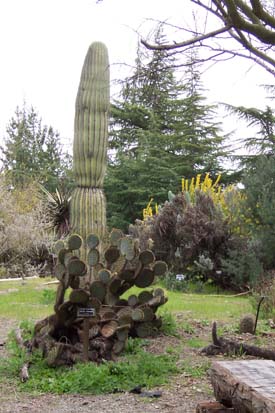 Today, more than 35 years later, the Cheeseman ESA is a lush natural garden containing some 400 species of plants representing 12 natural communities. In addition to the native plant communities, there is a xeric native plant display at the entrance.
Visited by several thousand school kids, college students, conservation groups and just walk-ins annually, it is a quiet haven surrounded by busy residential and campus life.
Students learn about their natural heritage, and see plants and animals likely unknown to them before. Students also conduct environmental research in the ESA. Casual visitors begin or deepen an appreciation of California's biological richness.
The Cheeseman ESA is an irreplaceable and wonderful part of De Anza College and the neighboring community. Those of us enjoying it today thank those whose foresight and enthusiasm saw this garden grow!