Check Your Progress Toward a Degree
---
Watch the Video!
Degree Works produces an easy-to-read audit that reviews the coursework you've completed at De Anza or other colleges, and compares that with the requirements for your desired degree or certificate.
You can use Degree Works, an online tool, to perform your own degree audit and
View your progress toward earning your associate degree or certificate
See how your current courses apply to your graduation requirements
Determine how changing your major will affect your graduation date
Plan your academic goals at De Anza and at four-year CSU and UC schools
Calculate your grade point average
The audit is divided into block requirements, which explain how different courses count toward degree requirements. This allows you to plan for future coursework and experiment with different options for declaring or changing your academic major.
Degree Works also provides convenient links to related services and information, including the college catalog, class schedule and other resources.
How to Access Degree Works
Log in to MyPortal
Look in the Apps section for the Degree Works tile
When you click on the Degree Works tile, you will open a page with links to instructions, video tutorials and the Degree Works platform itself

If you have difficulty accessing Degree Works with your computer, try clearing the cache in your web browser. See the Degree Works

"Quick Start Guide"

for information about how to do this.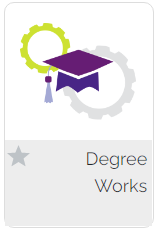 if you'd like assistance with using Degree Works or determining your eligibility to graduate, a
counselor or academic adviser
can help. You can use the
Our Counselors
webpage to find their contact information.

More Help With Degree Works
The following links provide more detailed instructions