Each year, the college recognizes graduating students for their achievements as well as their hard work and perseverance in seeking an education at De Anza.
Two students were selected for this year's President's Awards, each with a scholarship of $2,000. Click on each name or scroll down to read more about them.
In addition, two more students won top awards this year.
Karlen Kirkland was awarded the A. Robert DeHart Memorial Scholarship, also for $2,000, in honor of De Anza's founding president.
Manuel Alonzo Barrios, this year's student commencement speaker, received the Karl S. Pister Leadership Opportunity Award, providing $10,000 a year for two years to a student who transfers to the University of California, Santa Cruz.
President's Award Winners
---
Diana Rendler
President's Award winner Diana Rendler wants to improve the way health care is delivered – after she gains some first-hand experience by working as an emergency medical technician for a few years.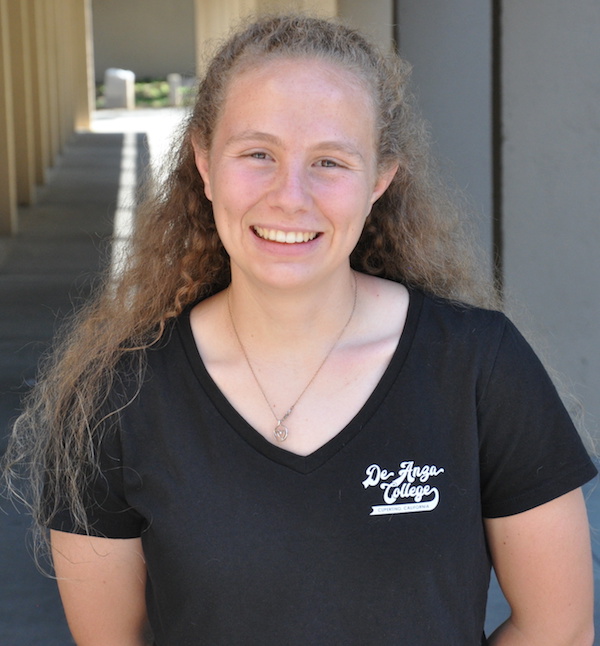 Diana, a 20-year-old San Jose resident, will graduate from De Anza this year with an associate degree for transfer in Sociology. She plans to earn a bachelor's degree in Sociology at San José State University and pursue a career in health policy.
While earning her associate degree at De Anza, Diana also pursued a longtime interest by taking EMT courses at Mission College. Studying sociology has given her a good foundation for public policy work, she said, and working as an EMT will give her a better understanding of what's needed.
"One way to fix the system is to inform and educate the people who make policy, and inform the people who vote for the people who make policy," she said. "But you have to work in a field for a while before they let you start changing policies."
Diana spent a year at the University of California, Santa Cruz, before deciding to complete her general education requirements at a community college. At De Anza, she found opportunities to pursue her interest in sports and civic activism, along with smaller classes where it was easier to get to know her classmates.
An internship at the Jean Miller Resource Room for Women, Gender and Sexuality provided valuable experience in working on equity issues with a diverse student population, Diana said. She also found time to compete on the women's Cross Country team in the fall and worked at a San José bakery.
---
Edin Aguilar Vazquez
Edin Vazquez fought traffic for hours each day while commuting from his parents' home in Gilroy to his classes at De Anza College. But he knew all that time in his car was worth it when he got word that he was accepted for transfer to UCLA.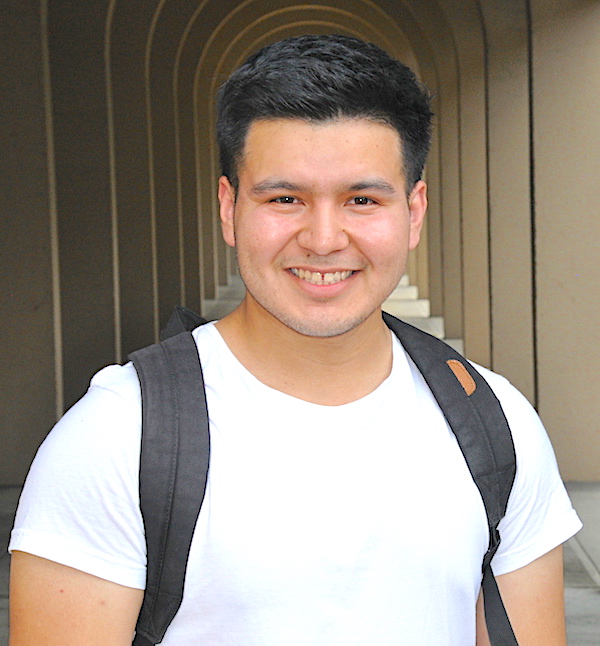 One of this year's President's Award winners, Edin is graduating with an associate degree for transfer in Sociology. The 20-year-old plans to take pre-law and economics courses at UCLA, while applying to law school.
Edin came to De Anza after his applications to four-year schools were turned down. "That was an eye-opening experience for me," he said. "I realized I needed to get my stuff together."
He chose De Anza because he wanted a "high-achieving environment" and credits Language Arts Division counselor Monica Ganesh with helping him plan which courses to take. By taking summer classes, Edin was able to meet all his transfer requirements and carve out time for part-time work in restaurants and construction.
On some days, he started with 7:30 a.m. classes and stayed on campus until his evening shift as a volunteer interpreter for a Santa Clara University law clinic that serves low-income families and immigrants.
"I figured if I was going to make the long drive, I might as well make the most of my time" before heading home, he said.
A first-generation college student, Edin said he wants to set an example for his 15-year-old sister. About De Anza, he added, "People here will help you and your professors will challenge you. It provides a great environment to succeed, and the rest is on you."
---
A. Robert DeHart Scholarship
---
Karlen Kirkland
Karlen Kirkland didn't always have an easy time with classes at De Anza. But after learning how to seek out support, and how to build a community of his peers, he plans to apply those lessons as he continues his education at San José State University.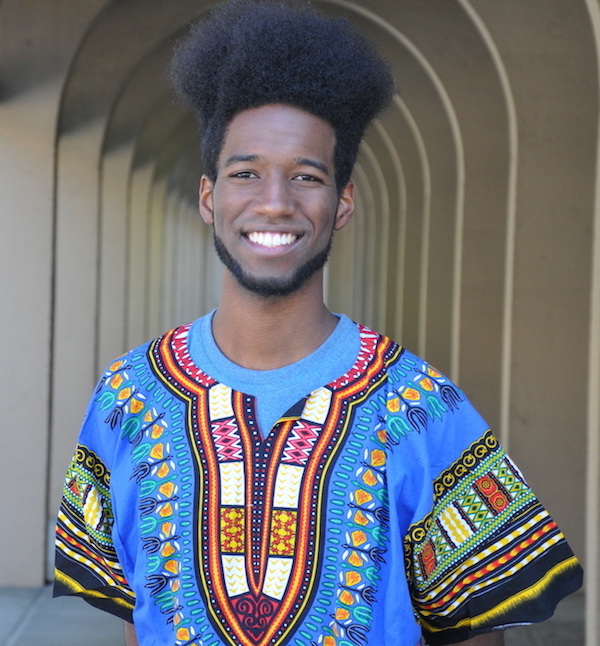 Karlen, 23, is this year's DeHart Memorial Scholarship winner. He's graduating with an associate degree for transfer in Business and wants to combine his interest in computers and business by earning a bachelor's degree in Management Information Systems.
During his first year at De Anza, Karlen became active in the InterVarsity Christian Fellowship after some members invited him to a Bible study session. He began leading sessions and eventually became club president for two years – organizing a variety of events from informal prayer meetings to musical activities and pizza parties, while expanding membership to nearly 100 students.
"We focused on building a community where people could feel safe and explore their identity, their struggles, their ethnicity and their faith in relationship to whatever they believe in," Karlen said. "It was difficult and stressful sometimes, but it was an awesome learning process."
Karlen also worked multiple jobs to support himself, and at one point found himself struggling academically – particularly in computer science, where he noticed there were very few other students of color in his classes. Despite feeling under pressure, he didn't want to seem vulnerable by requesting help.
But when he realized it was OK to ask for assistance, Karlen said he found encouragement from Melinda Hughes, a counselor with Extended Opportunities Programs and Services (EOPS), and Umar Douglas, a counselor with the Office of Outreach and the Men of Color Community.
"They definitely gave me the support to keep going," Karlen said. "It made a huge difference just to know that someone would be there to answer whatever question I had."
While he's excited about transferring to a bigger school, Karlen said he'll always feel connected to people he met at De Anza. From his experience, he said, "I understand what it takes to find a family and build a family. It will be awesome to bring that with me to San José State."
---