Donate Your Old Computer for an FHDA Student!
Through computer donations from members of our community, we are able to refurbish donated computers and give them to needy students at De Anza and Foothill.
We always wipe the hard drive or storage device to ensure that all data is completely erased. We then install the latest Microsoft Windows operating system along with utilities such as an office suite for Word Processing, etc.
How the Program Works
Computers are donated to Foothill and De Anza College's Computer Donation Program.
Disadvantaged students apply for a computer by completing the application for a computer.
OTI oversees the refurbishing operation that collects donated computers, refurbishes each unit and installs hardware and software.
When the computers are ready for distribution, OTI's Computer Donation Program staff provide student recipients with a computer at the De Anza College OTI CompTechS Lab.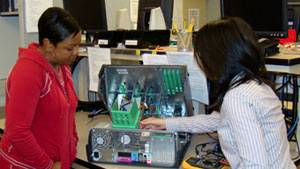 The program relies on student interns to evaluate and refurbish the computers. This provides the student interns with valuable work experience in computer hardware and software technical support and customer service skills.
This program is made possible through the help and support of the Foothill-De Anza Community College District. The DASB (De Anza Student Body) which has consistently provided funding and support for this project. Local individuals and corporations have donated many necessary raw materials to refurbish into complete computer systems so necessary for student success in college. Historically support has come in the form of donation from Foothill-De Anza Community College District's Chancellor's Circle, the Foothill-De Anza College Commission, the efforts of Executive World, a grant from David and Lucile Packard Foundation, a grant from the National Science Foundation, DASB, FCAS, the work of the CompTechS interns, and individual donations of computers and cash.
Make a Donation
If you would like to donate a computer to the Computer Scholarship Program, please review the minimum standards of equipment listed below. If you have a computer to donate that meets or exceeds these standards, please contact the OTI Computer Donation Lab at 408.864.5712.
If you would like to make a cash donation, please make checks payable to The Foothill De Anza Foundation. Please indicate the funds are for OTI's Computer Donation Program. Or go to the Foundation's website and download a gift form: http://foundation.fhda.edu/check
Mail the check to:
Foothill-De Anza Foundation
12345 El Monte Road
Los Altos Hills, CA 94022
Hardware Specifications
To make this program work, we have to make sure that the computers that we receive meet our minimum specifications.
The systems must meet these requirements:
PC Desktop and Laptop Computers must be a Core 2 Duo or faster or have comparable Intel-compatible CPU.
Computer equipment that cannot be reused are responsibly recycled.
Software Specifications
Due to software licensing requirements, the only way you can donate software is to donate the actual software and licensing key. Software that is more than three years old is not accepted.
When we receive a system we ensure that all data is removed. We then install the latest Windows operating system software. We cannot provide Microsoft Office software as it is already offered to students at a discount by Microsoft.
CompTechS and the students really appreciate your donations and understanding that only systems that meet our specifications are usable.
For additional information, contact: Joseph Lipsig at 408.864.5712 or lipsigjoseph@fhda.edu.
For information on receiving a computer scholarship, read the Free Refurbished Computers section of this website.