About CalWORKs
Working to build strong families by helping parents reach their career potential.
Are you a parent with limited income?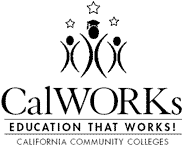 You are eligible to receive CalWORKs services if you currently receive TANF (Temporary Assistance for Needy Families) and plan to or already attend either Foothill or De Anza College.
If you currently do not receive TANF benefits but think you are eligible, call the nearest social services department for TANF eligibility.
---
Through our program, students may
Earn a college certificate
Pursue a new career
Gain valuable job skills
Find meaningful work
CalWORKS can help with
Staff and peer support
Fee reimbursement
Child care assistance
Textbook purchases
Fast-track registration
Academic, career and personal counseling
Internship placement
Job search assistance
Benefits for Students
Improve and expand employment opportunities after completing training
Provides focused learning opportunities in preparation for the workplace.
Relate your training programs to your career goals and future employment.
Gain valuable work experience and exempt income.
All CalWORKs students may participate if they maintain 2.0 GPA and are enrolled in a minimum of 6 units.
The CalWORKs JOBS programs meets core requirements and hours of activity established byTANF regulations and Santa Clara County.
How to Apply
Call to set up an appointment with a CalWorks advisor.
De Anza 408.864.8869
Foothill 650.949.7465
GOOD NEWS: CalWORKs Students have PRIORITY REGISTRATION PRIVILEGES
To Maintain Your Priority Registration Status
---
Resources for TANF Eligibility
Call the nearest social services department listed below for TANF eligibility.
24-hour Information Line
1.877.962.3633
Mid County
1867 Senter Road
San Jose CA 95112
408.785.4600
North County
1330 West Middlefield Road
Mountain View CA 94043
650.988.610
South County
379 Tomkins Court
Gilroy CA 95020
408.758.3300
For a list of application assistance centers for Santa Clara County residents, visit
If you live in another county and receive TANF, please contact our office at 408.864.8869.
Benefits for Employers
The Occupational Training Institute (OTI) is a resource for employers seeking low-cost, skilled interns. OTI offers this valuable service to both employers and students through the CalWORKs Work Study program.
OTI subsidizes wages up to 90% (good only through June 30, 2016).
Employers benefit from occupationally focused students who have knowledge and abilities which match their company's job requirements.
Employers augment staffing while increasing their recruitment pool of potential employees.
Employers are directly involved in the training of their future workforce.
Our career training programs include work experience opportunities that lead to self-sufficient employment for eligible students.