Welcome!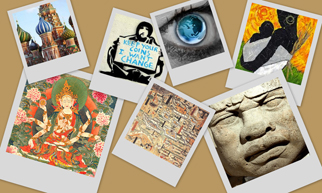 The International Studies program at De Anza College includes courses in:
Economic development

Globalization and social change

Global technology

International communication

Peace and conflict studies

World art and literature
INTL 5, Contemporary Global Issues, will be offered in Winter 2024.
This class will be offered as an asynchronous online course and will analyze through multiple lenses current global issues and problems, that impact all our lives. Topics for the course will include:

United Nations Sustainable Development Goals

Global Rules and Citizenship

Climate change -- conservation, the environment and the natural world

Democracy, peace and justice

Technology and human rights

Food, nutrition, health

Women's rights


International mobility -- movement of people across borders

Labor and trafficking

International education/Education abroad

Geopolitical hotspots (Hong Kong, Venezuela, Georgia, Syria, Kashmir, Ethiopia, Lebanon)

Impact of social media on tourism/Dark tourism

Philanthropy

Globalization of food, fashion and music
We also offer academic certificates and an associate in arts (AA) degree in Global Studies.
Looking for International Student Programs?
If you are looking for information about programs for international students, or studying on an F-1 Visa, please visit the
International Student Programs
website.