Meet Our Faculty!
---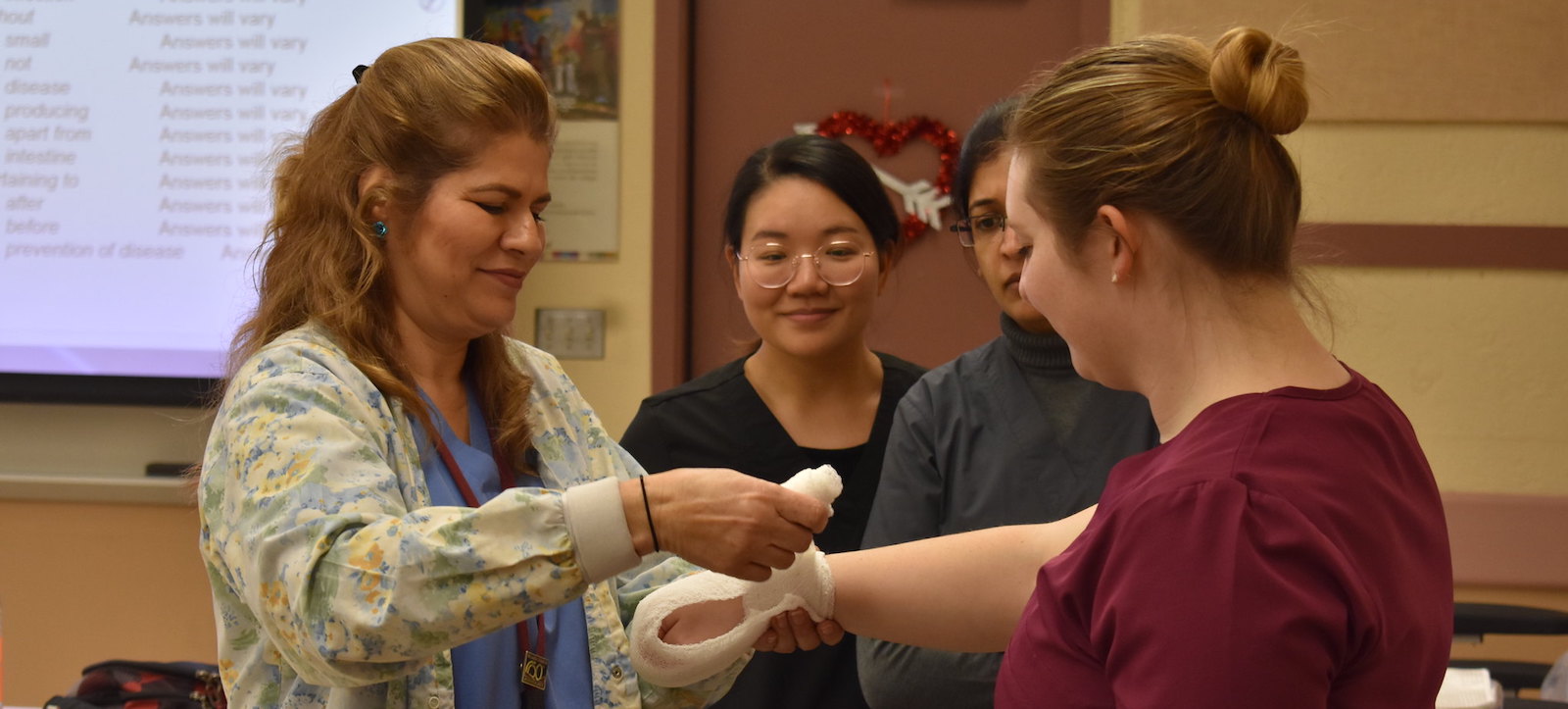 ---
Maureen Miramontes, RN
Health Technology Program Director
Maureen has been the program director since 2012. She received her nursing degree and California teaching credential in 2008. An experienced health care manager and teacher, Maureen managed and supervised an urgent care, family practice and occupational medicine clinic for 18 years. She also was clinical supervisor and assisted in testing specimens at a moderate complex physician office laboratory. For more than 17 years, Maureen has taught courses in the phlebotomy, medical receptionist and medical assisting program.
---
Marjorie Anne B. Guanzon, CPC, CPC-H, CPCO
Marjorie teaches courses in Medical Coding and Billing, and Electronic Health Records. She has worked at various medical facilities and health care organizations for more than 20 years. She loves engaging with her students and looks forward to sharing her knowledge to guide students as they pursue a career in the health care industry.
---
Patricia Hassel, RN, BSBA
Patricia is the former Health Technologies program coordinator at De Anza, and is currently a part-time instructor teaching Introduction to Health Technologies. She graduated from the Montreal General Hospital's School of Nursing and worked as a staff nurse in several specialties and hospitals. She was a full-time instructor at De Anza from 1969-2012.
---
Mary Lavin, CLS
Mary teaches Advanced Phlebotomy at De Anza and has been a Clinical Laboratory Scientist for more than 30 years, with experience managing laboratory and phlebotomy operations in clinical laboratories, hospitals, clinics and skilled nursing facilities. She has been an instructor for more than 14 years.
---
Tony Milano, CPT 1
Email: milanoanthony@deanza.edu
Tony teaches the lab portion of Skill Building in Clinical Laboratory Procedures II. He was co-owner of the Chatterton and Walker, Inc., School of Phlebotomy, and is a retiree from Kaiser San Jose. He has worked in the phlebotomy field for more than 30 years.
---
Sunita Rangwala
Sunita teaches Advanced Coding and has extensive experience in teaching Medical Assistant , Phlebotomy, and Medical Billing and Coding courses. She has taught in private and community colleges. She engages her students and helps them learn through real-world scenarios, while challenging them to think critically.
---
Susan Schmitz
Susan teaches some of the Advanced Medical Terminology courses at De Anza. She is currently working as a Pediatric Advice Nurse. Her nursing experience covers a variety of fields, including positions as a cardiovascular surgical nurse, AHA CPR and first aid instructor, and a flu nurse coordinator.
---
Sumedha Sherlekar
Sumedha teaches Advanced Medical Terminology courses at De Anza. She has bachelor's degrees in both microbiology and medical technology. In addition to teaching, she has worked in the pharmaceutical industry and for a blood bank.
---
Roy Shurtliff, RHIT
Roy teaches Medical Communications and Medical Law and Ethics. He has more than 30 years of experience in the health information field. He is currently director of the Health Information Management Department and is the Facility Privacy Official for a local acute-care hospital.