Office Hours:
Office of College Life, Photo ID, and VTA SmartPass
Summer 2022
Monday 9/19-2022 - Thursday 9/22/2022
Closed
Friday 9/23/2022
9:00 am - 2:00 pm
Fall 2022
Monday 9/26/2022 - Friday 10/7/2022
Monda - Thursday
9:00 am - 4:00 pm
Friday
9:00 am - 2:00 pm
Monday 10/10/2022 - Friday 12/16/2022
Monday - Thursday
10:00 am - 4:00 pm
Friday
Closed
Everyone will be required to wear appropriate coverings over their nose and mouth; covering will need to be removed for a few seconds when taking the picture.

Only one person at a time will be allowed into the office and social distancing will be required for people waiting in line.
Digital ID Card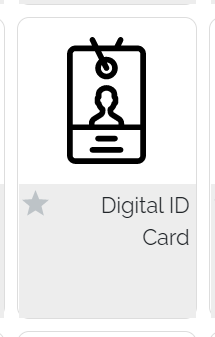 The digital ID card is now available in MyPortal for use while campus is closed. To access it go to Apps then select the Digital ID Card app tile in the Students section. It is also accessible in the hamburger menu of the De Anza College App for Android and iOS. The digital ID card should show the college logo for the campus at which you are enrolled, your picture if there is one in the system*, your name, the year, quarter, and campus at which you are enrolled, a bar code, and your student ID number. *If you do not have a picture in our system there should be a placeholder silhouette in its place and you will need to show additional documentation such as Driver's License or Passport for identification verification. Unfortunately, there is no way to add pictures until we are all able to return to campus.
Please stay safe and healthy.
Sincerely,
The Office of College Life Staff
---
About Your Photo ID Card
The Office of College Life provides the DASG Card for students, photo ID cards for faculty and staff members, and other ID cards and badges for various on-campus programs.
Frequently Asked Questions
What is the DASG Card?
The DASG Card is your Student Photo ID Card for De Anza College
What is the DASG?
The De Anza Associated Student Government (DASG) is your student organization at De Anza College and the DASG Senate is your student government representing you on campus.
What do I need to get a DASG Card?
Be currently enrolled at De Anza College in the current or upcoming quarter
Have your De Anza College Student ID Number
Have some form of original physical current Photo ID;
copies or photos of your ID cannot be accepted
(e.g. Driver's License, State ID Card, Passport, recent High School ID Card, etc.).
How much is the DASG Card?
The DASG Membership fee is included with your student fees and there is no extra cost for a DASG Card.
The DASG membership fee is $10.
Do I have to renew the DASG Card every quarter or year?
No, there is an expiration date on the card three years from when you received it and your card is valid until that date.
What if I lose my DASG Card before it expires, is there a replacement fee?
Yes, there is a $5.00 replacement fee that will be charged to your student account. You will need to come back to the Office of College Life to get your replacement.
---
DASG Card Policies
The DASG Card is the property of De Anza Student Government and entitles the student to access and service privileges as long as the De Anza Student Government Fees are current. Certain access and privileges may be denied if fees are delinquent or otherwise not current.
The initial DASG Card is free with the payment of the quarterly student government fees. Subsequent or replacement cards are subject to the existing Replacement Card Fee Policies and will be charged a $5.00 fee. To avoid paying the replacement fee, students are encouraged to retain the card for future use when not continuously enrolled or when leaving campus for the summer.
The DASG Card will serve as an official ID card for access at numerous labs and the library as well as events and services on campus. Therefore, the card should be carried at all times while students are on campus and at campus-sponsored events.
The DASG Card shall not be transferred, altered or tampered with in anyway except as authorized by De Anza College officials. Strict penalties may apply for unauthorized actions.
With the exception of the Campus Police, Campus departments may not hold the DASG Card for any reason. Recovered cards should be returned to the Card Office immediately.
If the DASG Card is lost, stolen or damaged, the Card Office should be notified immediately.
DASG Card Replacement Fee
The replacement fee is $5.00.
2. If a card is expired, the card will be replaced at no charge.
3. If a person is not registered for three quarters or more, the card will be replaced at no charge.
If the DASG Card is stolen, the replacement fee will be waived if a police report is provided to the Card Office. In order for it to be considered as stolen it must have been taken in a burglary, robbery, or theft. It cannot be a simple lost property report or that it cannot be found and is assumed stolen.
Policy revised April 29, 2021. DASG Card Policies are subject to change.