Page 22 - De Anza College Online Graduation Celebration Program 2021
P. 22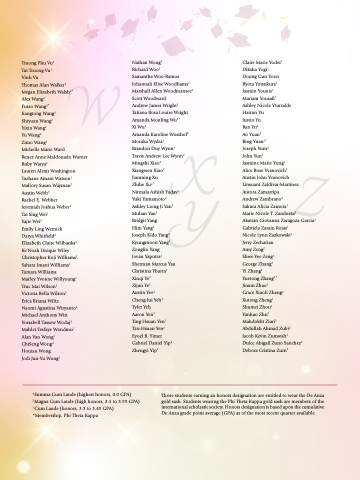 Truong Phu Vu2
Tai Truong Vu1
Vinh Vu
Thomas Alan Walker3 Megan Elizabeth Walsh2* Alex Wang2
Nathan Wong2
Richard Woo2
Samantha Woo-Ramos Johannah Elise Woodhams2 Marshall Allen Woodmansee2 Scott Woodward
Andrew James Wright2
Tatiana Rosa Louise Wright
Amanda Monling Wu1*
Xi Wu3
Amanda Karoline Wusthof2
Monika Wydra1
Brandon Duy WyXnn2 Travis Andrew Lee Wynn2
Mingshi Xiao2
Xiangwen Xiao2
Jianming Xu
Zhihe Xu2*
Nirmala Ashish YY Yuki Yamamoto2
Ashley Liong Ji Yan2
Muhan Yan2
Bridgit Yang
Elim Yang2
Joseph Kido Yang3
Kyungmoon Yang1
Zonglin Yang
Jovan Yaputra2
Sherman Marcus Yau
Christina Ybarra2
Xinqi Ye2
Zijun Ye2
Austin Yee2
Cheng-Jui Yeh2
Tyler Yeh
Aaron Yen2
Ting Hsuan Yen1
Tzu-Hsuan Yen2
Eyoel B. Yimer
Gabriel Daniel Yip2
Zhengyi Yip2
Claire Marie Yoder1 Diksha Yogi1
Doung Gun Yoon Ryota Yotsukura2 Jasmin Younis1
Mariam Yousafi1
Ashley Nicole Yturralde Hairun Yu
Justin Yu
Ran Yu2
Ao Yuan2
Bing Yuan2*
Joseph Yum2
John Yun2
Jasmine Marie Yung1
Alice Rose Yvanovich2Z Austin John Yvanovich
Linsuant Zaldivar-Martinez
Aurora Zamarripa
Andrew Zambrano2
Sakura Alicia Zamora1
Marie Nicole T. Zandueta2
Akatzin Giovanna Zaragoza Garcia2 Gabriela Zarain Rojas1
Nicole Lynn Zazkowski1 Jerry Zecharian
Amy Zeng2
Shwe Yee Zeng2
George Zhang3
Yi Zhang2
Yuetong Zhang3*
Jinxin Zhao2
Grace Xiaoli Zheng2
Xutong Zheng1
Shumei Zhou1
Yanhao Zhu2
Mahdokht Ziari2
Abdullah Ahmad Zubi2 Jacob Kevin Zumwalt1
Dulce Abigail Zuno Sanchez2 Debora Cristina Zurn2
Futao Wang3* Jiangtong Wang3 Shiyuan Wang2 Yixin Wang2
W
Yu Wang2
Zimo Wang1
Michelle Marie Ward
Renee Anne Maldonado Warner Ruby Warya2
Lauren Alexis Washington Tazhane Amani Watson1 Mallory Susan Wayman2
3 Austin Webb
Rachel E. Webber
Jeremiah Joshua Weber2 Tai Sing Wei1
Yajie Wei2
Emily Ling Wernick
Darya Whitfield2
Elizabeth Claire Wilbanks2 Ke'Noah Unique Wiley Christopher Koji Williams2 Sahara Imani Williams2 Tamara Williams
Marley Yvonne Willyoung1 Truc Mai Wilson2
Victoria Bella Wilson2
Erica Briana Wiltz
Naomi Agustina Wiryanto3 Michael Anthony Witt Yorsabell Tassew Wodaj2 Mahlet Tesfaye Wondmu1 Alan Van Wong1
ChiSeng Wong2
Houian Wong
Jodi Jun-Yu Wong2
2 adav
  3 Summa Cum Laude (highest honors, 4.0 GPA)
2 Magna Cum Laude (high honors, 3.5 to 3.99 GPA) 1 Cum Laude (honors, 3.3 to 3.49 GPA) *Membership, Phi Theta Kappa
Those students earning an honors designation are entitled to wear the De Anza gold sash. Students wearing the Phi Theta Kappa gold sash are members of the international scholastic society. Honors designation is based upon the cumulative De Anza grade point average (GPA) as of the most recent quarter available.