Welcome to the Office of Equity, Social Justice and Multicultural Education!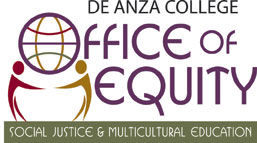 For more information and special accomodations at our in person reach out to DSPS at this email. You can review De Anza's Web Accessibility info page.
The Equity Office is part of De Anza's E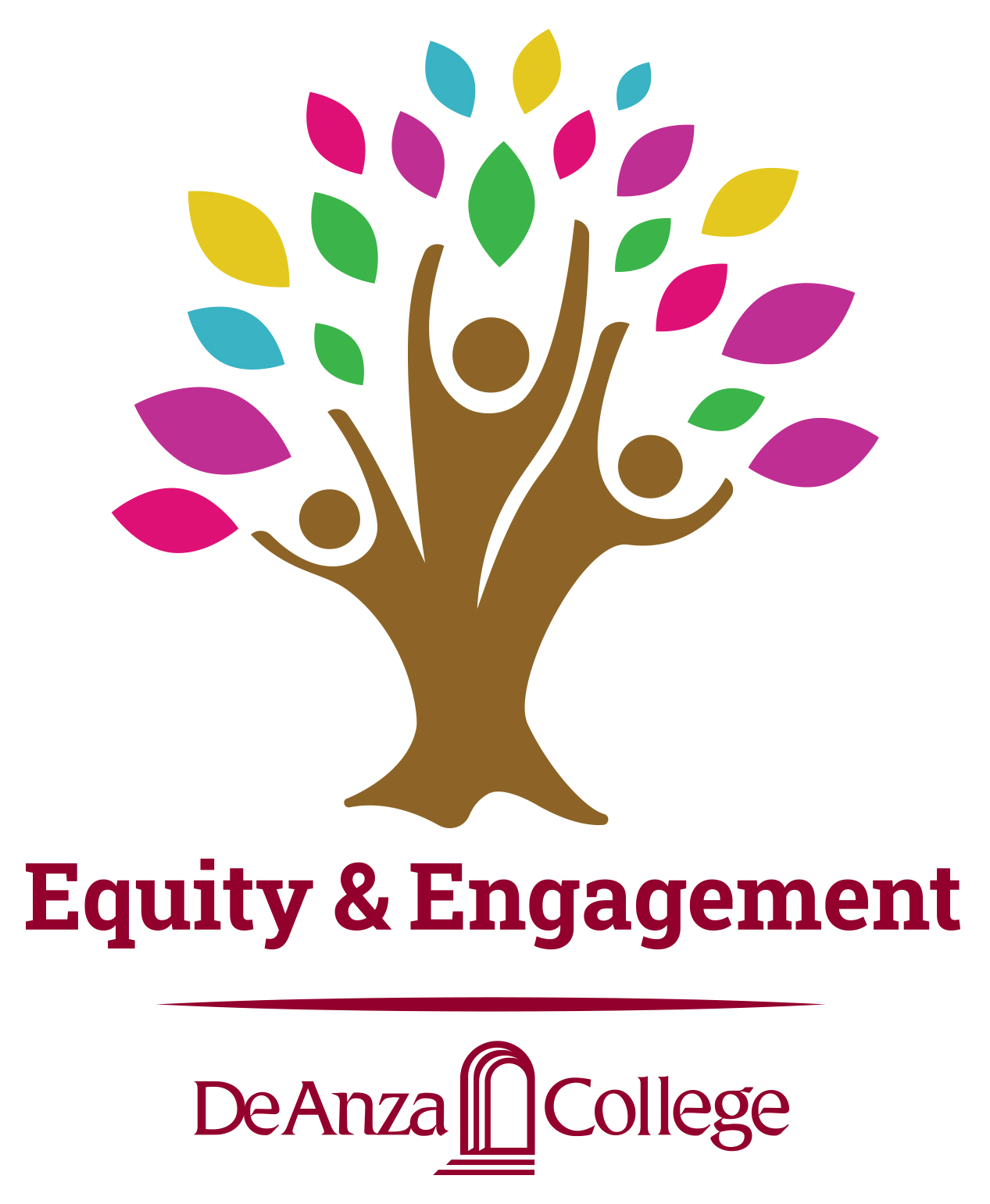 quity and Engagement Division. We are committed to the college's Student Equity Plan for 2019-2022.
Office of Equity Mission Statement
The Office of Equity, Social Justice and Multicultural Education promotes — through programs and services — an academic, cultural and social environment that provides equity, social justice and academic success for all members of the De Anza College campus community. It supports the district and college missions, which consider diversity an essential component of student education in the 21st century.
The Equity Office takes this charge seriously. We have expanded our mission of fostering a climate of healthy diversity that values individual and group differences and respects the perspectives of others by working to eliminate institutional oppression or barriers that perpetuate inequity, injustice, and mono-cultural education.
Upcoming Events
We invite you to attend an upcoming event with Tommy Orange, one of the Silicon Valley Reads featured authors and also known for his book "There, There." He will be speaking Wednesday, March 22nd, 2023 at 1:30-2:30pm via zoom.
Standing Against Racism
Find Resources here
Black Lives Matter
Please reach out to our colleagues at BFSA via email bfsa@deanza.edu for expressions of solidarity.
You can donate to the following accounts for financial support.
Get Involved
On Campus: African American Studies, Students UMOJA, Black Student Union, and with our colleagues BFSA -Black Faculty, Staff, Association, Men of Color,
Community: Movement for BLM, White-Allies SURJ, Asian Allies _People's Movement for Justice and Liberation,
McEntee Scholarship Program
The Friends of Human Relations (FHR) Board/ McEntee Scholarship Program is an all volunteer nonprofit organization and we have been working diligently for the past decade to assist low-income, mostly first generation community college students from Santa Clara County community colleges. This year we hope to award at least another twenty-two $2,000 scholarships awards for two years. We also plan to continue providing the Emergency Fund we re-established last year for students as they continue to face increasing COVID related economic insecurity and pressures.Since launching our effort over ten years ago we have awarded over $ 325,000. to over one hundred scholarship recipients. We provide the scholarship award along with a mentoring program, and follow up with each student until graduation day offering support with the job search if requested. To date over 90% of our scholarship recipients who have had sufficient time to complete undergraduate requirements at the university (generally 2+ to 3 years are needed) have graduated from a four year college or university.We encourage students to apply who have overcome obstacles to obtain a college education, including but not limited to: discrimination related to racial, religious, minority and/ or immigrant status, LGBTQ, disability, foster child, and/ or poverty status.
Due May 7thApply here:
http://www.friendsofhumanrelations.org/scholarships/
For other upcoming Heritage Months...
Please reach out to the affinity groups, DALA (Raza History Month), APASA for Diwali, Filipinx Studies (Filipino American History Month), the Land Acknowledgment working committee (Indigenous Peoples Day and Thankstaken), BFSA, and the LGBTQ Affinity Group or Pride Center
Muwekma Tribe - Call to Action
OFFICE OF EQUITY'S LAND ACKNOWLEDGEMENT
Learn - Muwekma Ohlone Tribe and Partnering Up For a Brighter Future w/POST
Donate - Muwekma Foundation and Help Restore Federal Recognition to Muwekma and COVID Relief Fund
Act - Sign the petition urging California's legislators to pass the Muwekma Ohlone Tribe resolution SJR 13 and Sign the Muwekma Letter to RESTORE FEDERAL RECOGNITION Back to the Muwekma Ohlone Tribe of the San Francisco Bay Region
---
De Anza 22-23 Multicultural Calendars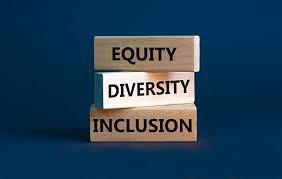 The De Anza Heritage Month Workgroup creates and maintains resources for the multicultural calendars. For more information review:
To promote your multicultural events on our website and/or arrange accommodations for events, send information/requests to equityoffice@deanza.edu. To provide updates/feedback about the calendars contact the Heritage Month Co-Chairs Lee and Ron.
Additional Information at: https://tinyurl.com/DAHeritage
---
Learn More about the Tamien Nation
The Tamien Nation is indigenous to Santa Clara County and De Anza College lands; watch a video of a presentation by their Chairwoman to learn more.
Video Source: Santa Clara University's Archives and Special Collections "Voices from the Aboriginal Homeland: The History of the Tamien Nation" with featured speaker Quirina Luna Geary, Enrolled Citizen and Chairwoman of the Tamien Nation (January 25, 2022)
Learn more at: https://www.tamien.org/
---
The Race in Racial Equity Workshop and Interactive Activities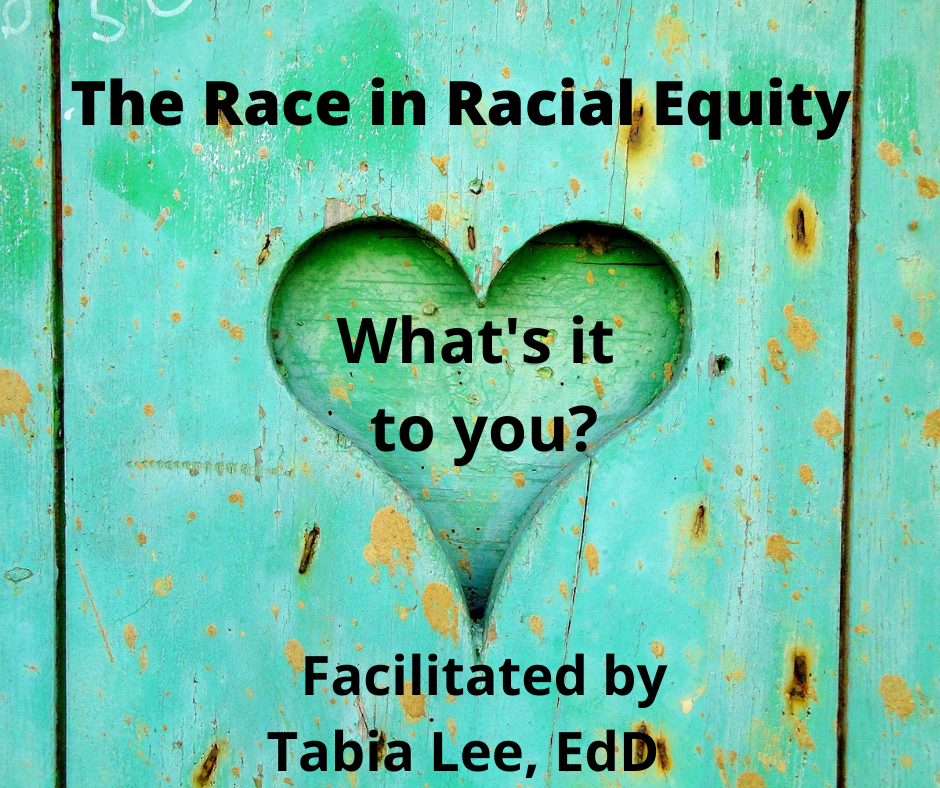 In AY 21-22 we started an exploration of individual and collective definitions of Equity and Equality. In AY 22-23 we are turning our attention to the race in racial equity. If you missed the workshop, check out the video and interactive activities for equity practitioners, students, and community members that are posted at the resource site. The interactive activites are resources for unpacking the hidden, unspoken, unexamined, and pervasive philosophies/ideologies of race, racism, and racial equity that shape our educational practices and policies.
Race Ideologies Resource Site: https://tinyurl.com/RaceIdeologiesResources
---
Racelessness Learning Community
The video recording of our amazing and informative workshop with Dr. Sheena Mason from District Opening Day will post in the coming weeks. All District employees are invited to join us for the soon to launch Racelessness Learning Community with Dr. Sheena Mason.
Bookmark the learning community page at: https://www.tinyurl.com/FHDARacelessness
---
More Opportunities to Learn
For the latest information about workshops and opportunities to learn with Dr. Tabia Lee, Faculty Director for the Office of Equity, Social Justice, and Multicultural Education visit Dr. Lee's website
---
Stop Asian Hate
---
On-Demand Jewish Inclusion & Anti-Semitism Community Education
In Winter 2022 a virtual summit was hosted to center Jewish Inclusion at a time when anti-Semitism is on the rise locally and globally. The Jewish Inclusion and Anti-Semitism Community Education Summit topics included: Defining Anti-Semitism, Protecting Freedom of Expression in the Face of Rising Intolerance, Crossing the Line 2: The New Face of Anti-Semitism on Campus, Intersectional Identities: Diverse Voices from the Jewish Community, and Forgotten Refugees: The Mass Exodus of Jews from Arab Countries and Iran in the 20th Century. We are most thankful to the community advisors and panelists who made the summit a great success!
Please visit the Summit website to review the event recordings and explore the resources to extend the learning: https://tinyurl.com/DeAnzaJewishInclusion
For more information contact: Dr. Tabia Lee, Faculty Director for the Office of Equity, Social Justice, and Multicultural Education
---
2021 Event Recordings
Watch some of our previous events for Equity inspiration.
---
Districtwide Professional Development
Dr Joy DeGruy: The Conversation Continues
In April 2021, the district held the third event in a series of conversations with Dr. Joy DeGruy to deepen our understanding of the effects of institutional racism, discrimination, and marginalization, and steps we can take within our district to become a more equitable learning and work environment. here is this recommended self directed study for this event. Check out her YouTube Channel
For More Informaiton: Pat Hylan HylandPat@deanza.edu.
LibGuide
To continue exploring and studying Dr. DeGruy's work, please visit this Foothill-De Anza LibGuide: An Introduction to Dr. Joy DeGruy and Anti-Racism
For more information, please send an email to Keri Kirkpatrick kirkpatrickkeri@fhda.edu
---
Stop Asian Hate
Stop AAPI Hate: You can report incidents of aggression, racial profiling, and violence here in English, Chinese, Korean, and Vietnamese. The Asian Pacific Policy & Planning Council created this reporting center.
In this historic year of cultural shifts, we invite you to align to the core values of equity and social justice. We have opportunities to be upstanders and we can learn from these Educational Resources on Anti-Asian Scapegoating created by the Asian American Studies department.
We Stand by Our International Students at De Anza
Equity and Justice Resources
What do we want? Justice! When do we want it? Now!
Please see our Conceptual Framework visual, explore our website regarding Guiding Assumption and Core Values and equity resources as well as student resources during this online learning experience. Check out these webpages, too:
---
Stay Connected!
All of us in the academy and in the culture as a whole are called to renew our minds if we are to transform educational institutions-and society-so that the way we live, teach, and work can reflect our joy in cultural diversity, our passion for justice, and our love of freedom.

- bell hooks, scholar