Publication Titles and Summaries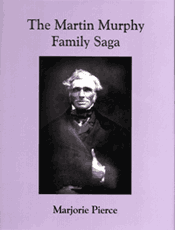 Martin Murphy Family Saga
by Marjorie Pierce
After six years of research, Marjorie Pierce tells in narrative non-fiction form the first complete story of the colorful Murphy family of California. It is also the first account of the 1844 Murphy-Stephens party. Previous accounts of their crossing are based solely on the recollection of Moses Schallenberger who does not include the Oregon group.
Hard Cover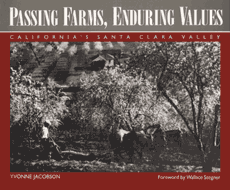 Passing Farms Enduring Values
by Yvonne Jacobson
The new edition features an Epilogue on the loss of farm land in the county and across the state and nation. Recent photographs illustrate this new essay. The new book also includes an introduction by Wallace Stegner and a new Preface authored by California History Center Director Emeritus, James C. Williams.
Hard Cover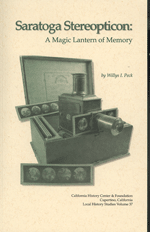 Saratoga Stereopticon: A Magic Lantern of Memory
by Willys I. Peck
This collection of entertaining and insightful articles that appeared in the Saratoga News in a column entitled "Saratoga Stereopticon" is sure to make the reader smile. The vignettes offer glimpses of a rapidly fading Saratoga past. Mr. Peck has been a newspaperman for over 40 years and has also been dedicated to historical groups. He is a trustee of the California History Center Foundation.
Soft Cover
ISBN 0-935089-21-7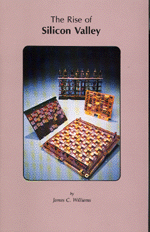 The Rise of Silicon Valley
by James C. Williams
Originally published as an essay entitled "Frederick E. Terman and the Rise of Silicon Valley" in Carroll Pursell, ed. Technology in America (1990), this booklet traces the human and technological forces that coalesced to create the Silicon Valley.
Soft Cover
ISBN 0-935089-16-0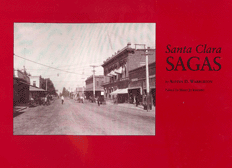 Santa Clara Sagas
by Austen Warburton, edited by Mary Jo Ignoffo

The late Austen Warburton, an attorney and history buff, wrote a series of historical articles about families in Santa Clara's history which appeared in the Santa Clara American during the 1970s and 1980s. They have been compiled here along with over 90 photographs. Historical essays about the city of Santa Clara, added by the editor, complement the family sagas.
Hard Cover, ISBN 0-935089-20-9
Soft Cover, ISBN 0-935089-19-5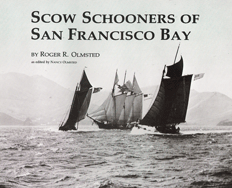 Scow Schooners of San Francisco Bay
by Roger Olmsted
In describing the history of the "Scow Schooners... an ugly barge-like craft with the aesthetically appealing lines of the much more graceful sailing vessel... it's a work that will find a warm place in the hearts of anyone who loves tales of sailing vessels and their hardy crews. Very highly recommended." --Scale Ship Modeler.
Soft cover, ISBN 0-935089-12-8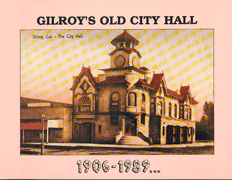 Gilroy's Old City Hall 1906-1989
by Angela Woollacott & Carroll Pursell with Chuck Myer
This is the history of a landmark California building and the people who have lived their lives in and around this California community. A lively text captures the story of Gilroy's city government from volunteer fire fighters and "frontier justice" through the events surrounding the two world wars. The building's transformation from city hall to popular restaurant tells an important historic preservation story.
Soft Cover, ISBN 0-935089-15-2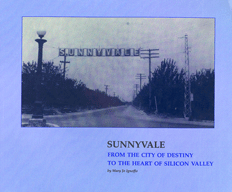 Sunnyvale From the City of Destiny to the Heart of Silicon Valley
by Mary Jo Ignoffo
Sunnyvale--in 1750 the land lay virtually untouched by Western civilization.
A mere two hundred year later, a technological revolution had its beginning here. This book tells the story of Sunnyvale and its people from earliest days through the emergence of the fruit industry to the birth of a high-technology enclave, the heart of today's Silicon Valley.
Soft Cover
ISBN 0-935089-17-9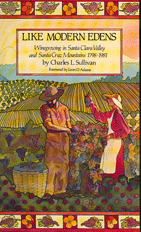 Like Modern Edens: Winegrowing in the Santa Clara Valley and the Santa Cruz Mountains, 1798-1981
by Charles L. Sullivan
"Some day I hope to meet Charles L. Sullivan and salute him with a raised glass of wine in honor of this fine book...[which] deftly intertwines regional history with s in other winegrowing areas..."
Charles T. Morrissey, University of Vermont.
Soft Cover
ISSN 0276-4105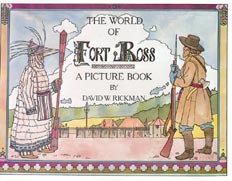 The World of Fort Ross: A Picture Book
by David W. Rickman
Soft Cover
ISSN 0276-4105
---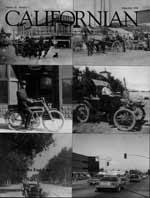 The Californian Magazine
A publication of the California History Museum