Hello Guardian Scholars
Welcome back to campus for the 2022-23 academic year! We are excited about having the opportunity to connect with you as the pandemic subsides and we are able to resume in-person services and activities for the program.
If you are a current Guardian Scholar, you will be hearing from Flora Payne, our newly hired full-time GSP counselor. If you are a prospective GSP student, please review our eligibility criteria and reach out to Ms. Payne if you have any questions regarding the program or application process. You can find ways to contact her by visiting the new Guardian Scholars Counselor webpage.
Struggling With Housing or Other Needs?
The nonprofit Bill Wilson Center has programs to support students who need assistance with emergency housing, employment, food or substance abuse. Representatives are available in the Outreach office – RSS 127 (down the hall from the Bookstore) – on Tuesdays from 11 a.m.-3 p.m.
Here are some additional resources
Support for Foster Youth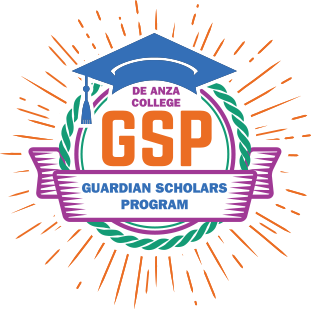 The Guardian Scholars Program (GSP) is an EOPS supplemental support service that assists current or former foster youth in succeeding at De Anza College.
By providing students with individual attention and access to supportive resources, we hope that all of our scholars achieve academic success, graduation, employment and the ability to become a contributing member of society.
Guardian Scholars Receive
Priority registration
Grants that cover tuition and fees
Academic advising – assistance with class selection and registration
Referral to employment services, mentoring and career counseling – job placement, shadowing and advising
Personal guidance, counseling and mentor – regular contact with a consistent counselor to develop and monitor an education plan
Supplemental support – including textbook vouchers, meal vouchers, gas cards, transportation assistance
Become a Scholar!
By becoming a Guardian Scholar through the De Anza EOPS Program, students who are current or former foster youth get opportunities to participate in special events and activities, and develop supportive relationships with faculty, staff members and other students. Currently there are approximately 40 students in the program, and each is on their own unique path to academic and professional success.
In addition, Guardian Scholars are supported by caring and understanding EOPS faculty and staff members who empower and encourage them to pursue their dreams. Obtaining a college degree can be challenging, but with a proper support system in place, the sky is the limit for our students.
---
"GSP has shown me that despite my struggles and upbringing, there's people out there who endured the same pain as I did. Those individuals were able to thrive and find their happiness in their own special way despite being a foster child or troubled youth. That alone empowers me to keep going and thrive for a better tomorrow."
– Student at the 2017 GSP End-of-Year Celebration
"I enjoyed everything about the event and how we were all honored for our hard work. I'm just thankful for all the support from the GSP."
– Student at the 2017 GSP End-of-Year Celebration
---
Foster Youth Success
Scholarships
The following scholarships are available specifically to current and former foster youth. Please make sure you read the requirements for each application to make sure you are qualified.
Tips for a Healthy Lifestyle
More Resources Off Campus